Meet Our Officer Instructors
Learn to Drive from Police Officers
Our TopCops Classroom and Driving Instructors are from many different law enforcement agencies in the Boulder County and Denver metro areas. The diversity of backgrounds in our first responders make young drivers comfortable behind the wheel. We prepare students at a cognitive and emotional level to accept and understand the responsibility associated with driving by developing their SIPDE (Scan, Identify, Predict, Decide, Execute) skill set. This exceptional training can only be offered by trained and decorated police officers and first responders found exclusively at TopCops Driving School!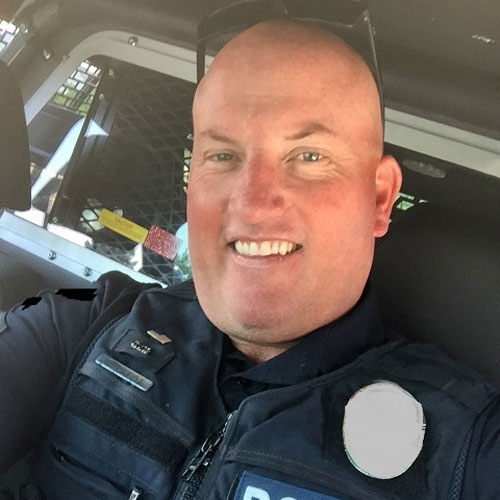 Instructor / Staff Trainer: Sergeant Matt Cabot
One of the first faces you will see when your young driver starts their four-day class at TopCops is our valued volunteer, Sergeant Cabot. Beginning in 2012, Sgt. Cabot is one of our original TopCops. He volunteers his time to lead a trusted group of fellow traffic officers who spend their days off to teach teens how to drive safely by using their experience on the street to give teens an advantage behind the wheel.
With 28 years of police experience, Sgt. Cabot is considered a driving instruction and traffic safety EXPERT and is certified to testify as an expert witness in Boulder County Courts. Sgt. Cabot has served as a SWAT Officer, Field Training Officer, Internal Affairs Investigator, School Resource Officer, and most importantly, a Traffic Unit Sergeant who has investigated thousands of accidents throughout his career. Sgt. Cabot is certified through the Colorado State Patrol to train new police officers how to drive their police vehicles with lights and sirens, and he uses his certification as a POST Academy Instructor in the curriculum for our TopCops students. Sgt. Cabot's extensive experience working with teens, coupled with his tenure as a Traffic Sergeant, is the pillar of what makes the TopCops learning experience so much more comprehensive than any other driving school in the state. Since 2012, TopCops has taught over 10,000 teens in Boulder and surrounding cities to drive with excellent results!
Sgt. Cabot handpicks and trains our driving instructors. All of our officers are background checked by the State of Colorado to obtain their instructor certification. As you can see from our driving instructors below, Sgt. Cabot picks only the best of the best to join our team here at TopCops. Our experienced team is why parents come back to us for each of their kids' driver's education as they near the age of 15. Our partnership with local police officers and our reputation in the "Mom" network in Boulder and surrounding cities puts us at the top of the list of where to send your teen to learn to drive.
So come and join us, and let our team teach your kid to drive, like a TopCop!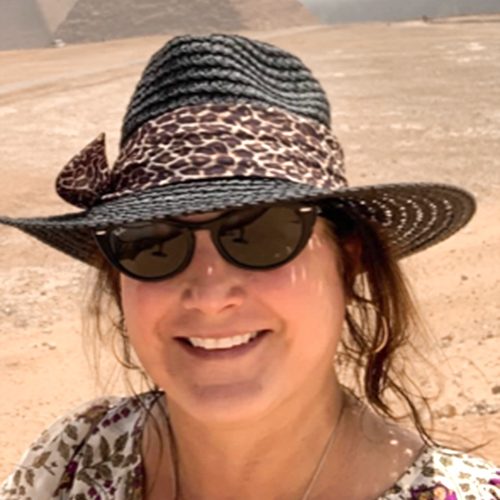 Dr. Melinda Groom-Cabot
Dr. Melinda Groom-Cabot is the owner and founder of TopCops Driving School. With over 30 years of experience as a Teacher, Principal, Chief Academic Officer, and Superintendent, she teamed up with Sgt. Cabot (the expert in traffic safety) to develop the curriculum for TopCops Driving School, which is specifically targeted at developing the teen brain so that our students understand both the responsibility and safety aspect of driving. Dr. Groom-Cabot holds a BS from the University of Wyoming, two master's degrees, and received her Ph.D. from Nova Southeastern University. She has held positions in many CO school districts, including Boulder Valley School District. Holding titles from teacher all the way to Superintendent gives her an understanding of the diversity of learning backgrounds for all students. Dr. Groom-Cabot has her administrator's license, which qualifies her to provide accommodations for special needs students with a 504 or IEP. Her commitment to the classroom side of TopCops cannot be matched by any other school. This is what makes TopCops stand alone as the most elite and comprehensive driving school in the state of Colorado. She attends all the 30-hour classroom instruction days for every session.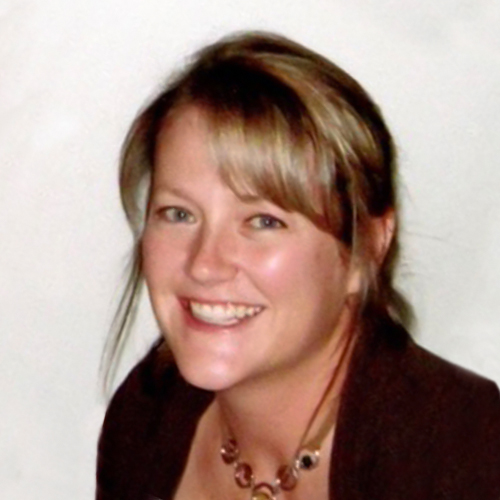 TopCops Office Manager: Amy Dudley
Amy was born and raised in Colorado. She is married to Commander Dudley of the Thornton Police Department; they have four adult children who all participated in the TopCops Driving School program. Amy has worked in both the St. Vrain Valley School District and Boulder Valley School District. She takes great pride in the work TopCops does with their students. Amy has been with TopCops for almost nine years and will be one of the voices you hear on the TopCops line. She is a wizard with the scheduling software and can help you personalize the BTW driving lesson experience for your student driver. Amy is happy to answer any questions about Colorado State DMV Regulations and can guide you through the program or assist you in understanding your TopCops scheduling account.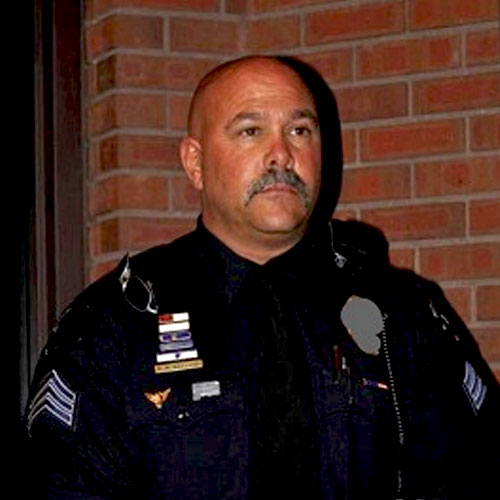 Instructor: Sergeant Rick Kellogg
Sgt. Rick Kellogg was a police officer for Northglenn Police Department for twenty years. During that time, he served as a School Resource Officer, Motor/Traffic Officer, and DUI Enforcement Officer. Sgt. Kellogg reviewed and investigated thousands of accidents as a supervisor in the traffic unit, so he knows all about the mistakes that lead up to accidents. Sgt. Kellogg is a certified motor officer instructor and obtained his certification from Harley Davidson/Northwestern University. He has trained many police officers to be better drivers and has trained motor officers from across Colorado to receive their certification. Sgt. Kellogg's training and experience as an accident investigator sets him apart from many other driving instructors and will give your young driver an advantage behind the wheel -and this is what makes him a TopCop!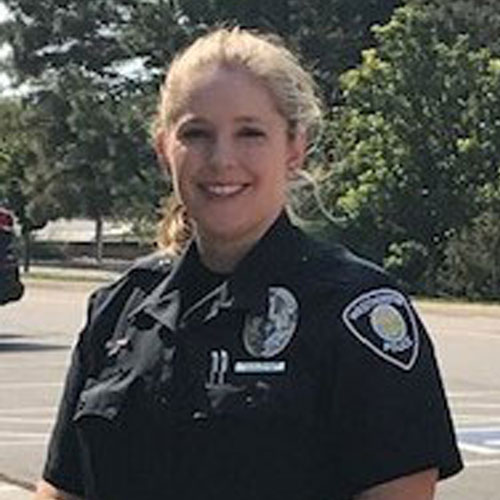 Instructor: Officer Monica Hafner
Officer Hafner brings a wealth of experience from Westminster Police Department to both the classroom and the street for TopCops. Officer Hafner is an amazing instructor in the classroom, where she talks about her real-life experiences as a cop with texting and driving. She is a no-nonsense patrol officer who responds to 911 calls, arrests drunk drivers, and enforces traffic laws. She is also a great role model who talks about real-life decisions and how they affect many people's lives. We are so lucky to have Officer Hafner as a resource to TopCops Driving School because of her effect on young people. Officer Hafner is committed to the safety of your young driver, both in the classroom and on the road. She has such a great rapport with kids, and one of those reasons is because she is not just a cop -she is a mom, too. Officer Hafner's commitment to the lives of young people and her wealth of experience as a patrol officer makes her a TopCop!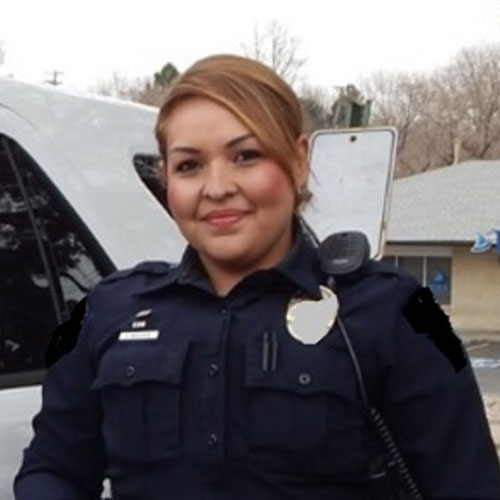 Instructor: Officer Jessenia Aguirre
Officer Jessenia Aguirre is a Colorado Native and grew up in the Thornton area. She attended Regis University for undergraduate and graduate school. She has a B.A. in Sociology with double minors in Psychology and Criminology and a M.S. in Criminology. Jessenia has spent a majority of her adult life helping others in various ways. While attending college, she volunteered tutoring HS age kids and working with a 1st grade classroom. While attending school full time, she worked at a hospital in nutritional services on weekends and evenings. After graduating with her Bachelor's degree, she worked at a non-profit organization providing academic counseling and guidance to high school age kids as well as helping students that had dropped out to re-enroll in school.
While doing this, she had an after school program where she worked with students in giving back to the community. She volunteered at several homeless shelters to include a few in San Diego, CA while there in a trip. During this time Jessenia was also working on her graduate degree. While attending a P.O.S.T academy to become a police officer, Jessenia worked as a Caseworker for Jefferson County in the Juvenile Delinquency unit. In 2014, she was hired as a police officer with the Thornton Police Department. She worked in the patrol division for a few years and is currently serving as school resource officer. Jessenia has earned a lifesaving award and two unit citations. She is very involved in community outreach and aside from helping others, Jessenia loves working with youth… and this is what makes her one of our TopCops!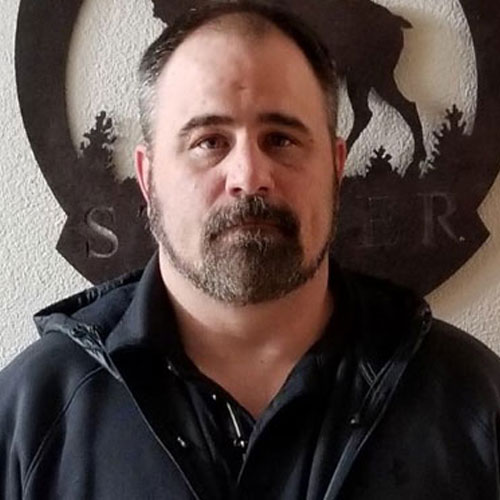 Instructor: Officer Robert Stoner
Robert Stoner has spent the last 22 years in Adams 12 five star schools and Boulder Valley Schools working and coaching teen athletes. Athletics and coaching have been a part of his life from the time he was 5 years old, Robert played soccer, wrestled and track and field from youth associations thru middle school, High School Soccer, wrestling, and football. In college, Robert wrestled at Western state college, Colorado. Roberts says that coaching teens are one of the most rewarding things that he has ever done. Robert feels that it is a great honor and responsibility to teach new drivers the rules of the road that should never be taken for granted. Robert's coaching style focuses on the basic fundamentals of driving which is similar to coaching any sport because that is the basis for developing a successful driver or player. Robert truly believes that the lessons taught in athletics for have helped him to succeed in other areas of his life and he is excited to help new drivers learn the fundamentals so that they can become safe drivers. Robert's life experience in coaching is what makes such an amazing driving instructor at TopCops!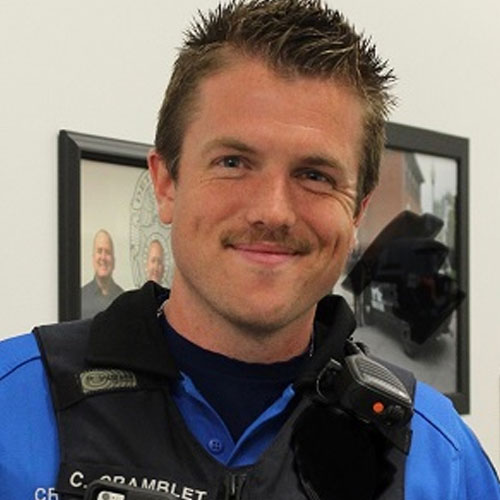 Instructor: Officer Cooper Cramblet
Officer Cooper Cramblet has been in Law Enforcement for the last seven years. Cooper began working with the Adams County Sheriff's Office at their detention facility where he spent three years. Cooper then moved onto the Erie Police Department as a patrol officer over the last 4 years. Throughout the last seven years, Cooper has obtained his certifications as a Level I Traffic Accident Investigator, Field Training Officer, Crisis Intervention Trained Officer, SWAT operator, along with a variety of other certifications. Cooper has investigated a vast amount of minor car collisions, up to rollover collisions involving SUV's and tractor trailers. Cooper enjoys being able to mentor adolescents as they begin their driving journey, using information and training he has received throughout the years. Cooper takes pride in making connections with the adolescents he instructs and strives to make meaningful connections to continue to have the privilege as a TopCop to promote safety to new drivers. Cooper stated "TopCops provides the opportunity to build community relations, help promote proper driving habits and safety, and show parents how much we care about their children's growth as a young driver." Cooper enjoys meeting new people and enjoys speaking with all young adults and their parents. Cooper's experience in traffic investigation and his commitment to safety if what makes him one of our TopCops! If you see Cooper, say hi!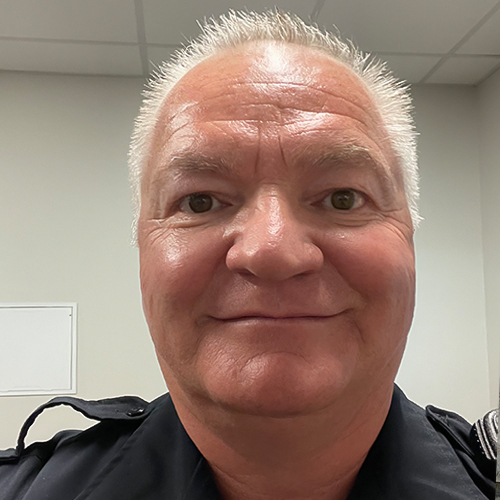 Instructor: Officer Mark Quintana
Officer Mark Quintana is an active police officer with the City of Thornton and a school resource officer (SRO) at Riverdale Ridge High School. Mark has been a police officer for twenty-six years and an SRO for fifteen years. Mark's passion for working with kids started after responding to the Columbine shooting while serving on the SWAT team. Before becoming a police officer, Mark served eight years in the US Navy as an engineer. Mark has been an instructor at TopCops for over a year and enjoys teaching students proper driving skills to ensure they are safe on Colorado's busy roadways. Mark's tireless work with the youth of our community as a school resource officer and driving instructor is what makes him one of our TopCops!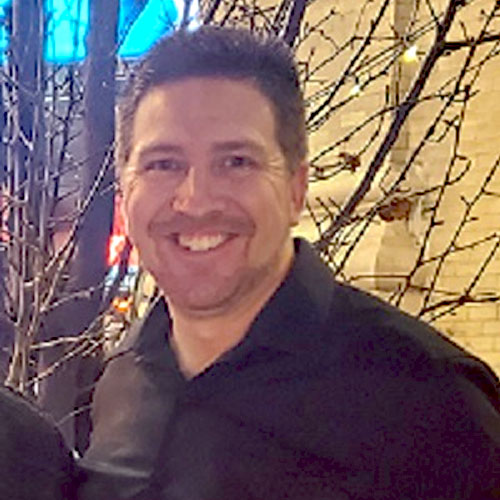 Instructor: Officer Paul Martinez
Officer Paul Martinez is a United States Marine Veteran and served in both Desert Storm and Desert Shield. Paul was a police officer for 10 years and served as a sergeant and K-9 officer with the Huntersville Police Department in North Carolina. He also received a Life-Saving Award with the Thornton Police Department for pulling a suicidal person off a bridge. Paul has always enjoyed working with youth and the opportunity to teach and mentor.
Paul says, "TopCops allows me to meet some amazing youth, and hopefully teach them some life lessons that they will remember, and keep them safe on the roads." Paul's service to our country and his commitment to keeping teens safe behind the wheel is what makes him a TopCop!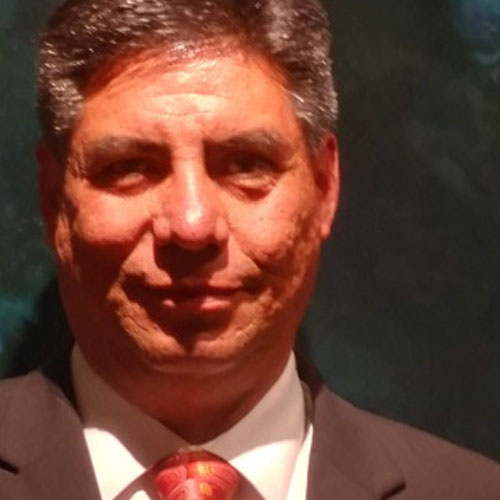 Instructor: Trooper Gary Torres
Gary Torres is a native of Colorado. He joined the military as a transportation heavy equipment operator and later transferred to military law enforcement. Gary is a war veteran. After his service in the military he joined the Colorado State Patrol as a Trooper. When Colorado's alive at 25 teen driving course was introduced to the state patrol Gary became one of the first instructors for that program. Gary carries much of that curriculum with him behind the wheel as a state certified instructor. When Gary left the CSP Gary became an instructor for a major transportation company teaching adults to drive semi tractor trailers throughout the United States. Gary's diversity behind the wheel is what makes him one of our TopCops!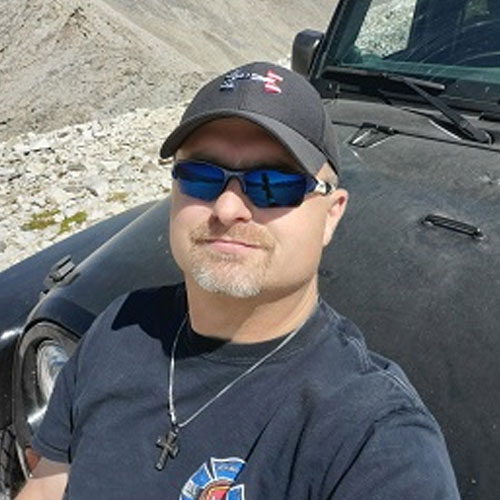 Instructor: Deputy Larry Hargreaves
Larry Hargreaves grew up in Broomfield and started his Law Enforcement career as a Trooper with the Colorado State Patrol. Working with the Patrol and covering all types of crashes inspired his love for cars and safe driving. The experiences with the Colorado State Patrol fueled his passion to be an expert at traffic safety and driving. When he left the Patrol he joined the Boulder County Sheriff's office as a Patrol Deputy. While with Boulder County he worked in the traffic division and filled in as an SRO at Arapahoe Ridge High School. While working in the school system as an SRO he discovered a new passion - working with and teaching kids.
Larry Hargreaves is now a Lead Security Agent with Boulder Valley School District where he gets to help and teach children of all ages every day in safety and security. Agent Hargreaves likes to be involved with the community and looks forward to working with the Top Cops students and helping them to become the best and safest driver that they can be. Agent Hargreaves believes that being able to teach our youth how to drive safely and building a strong and safe foundation will drastically affect the future of traffic safety and save lives. Larry built his career around the traffic safety and that is what makes him one of our TopCops!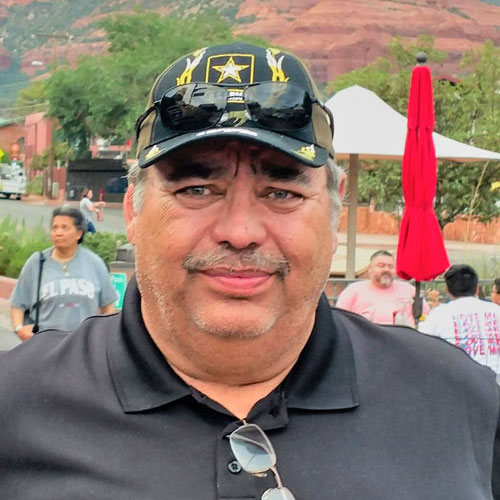 Instructor: Deputy Doyle Jones
Doyle Jones has been in law enforcement for over 30 years. He began his career in Larimer County Sheriff's Office as a patrol officer in 1980. In 1986, Doyle went to Idaho Springs PD. He became S.W.A.T officer in Idaho Springs. Doyle came back to Larimer County as a reserve Sergeant. Weld County and Larimer County had a joint police academy where he did most of the training for new law enforcement officers. Doyle became the Director of the Law Enforcement Academy for Weld County full time until 2017. Doyle has become a master police driving instructor, teaching instructors for police and sheriff agencies throughout Colorado. Doyle has been a driving instructor for law enforcement since 1985. He is recognized as a Master Driving instructor with the State of Colorado and now passes the skills and abilities that he teaches to police across Colorado to your young driver. Doyle's commitment to safe driving and his willingness to share what he knows with our young drivers in Boulder are what make Doyle a TopCop!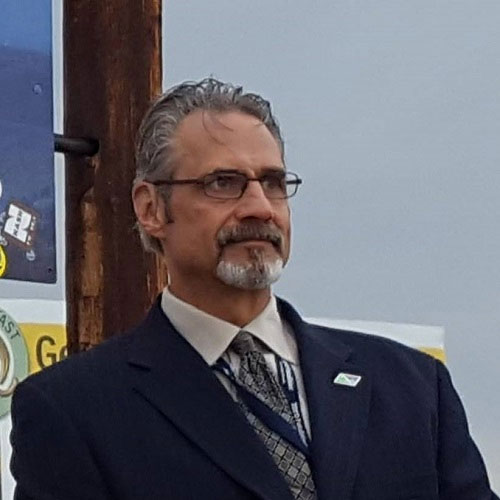 Instructor: Officer Glenn Davis
TopCops is so lucky to add to the long list of amazing professional instructors that work for the company with the addition of Glenn Davis who is the Highway Safety Manager for the Colorado Department of Transportation. Glenn's responsibilities include coordination of the Impaired Driving, Speed Enforcement, and Motorcycle Safety Program. Glenn retired from the Littleton Police Department (LPD) after 25 years in law enforcement. At LPD, Glenn served in the patrol division, detectives and community service divisions. Glenn's last assignment at LPD was a school resource officer at Littleton High School. Glenn still has a law enforcement role as a sergeant in the reserves of a police department in north-east Colorado. Glenn has held instructor qualifications in motorcycle basic operator, standard field sobriety testing, intoxilyzer and drug recognition expert training. Glenn has a B.A. in Criminal Justice and a Master's Degree in Education from Colorado State University. Glenn has an extensive educational background that he is excited to pass along to young drivers, and he is committed to preparing young people how to drive safely and enjoy their driver training experience. Glenn's leadership in traffic safety at the state level certainly makes him a TopCop!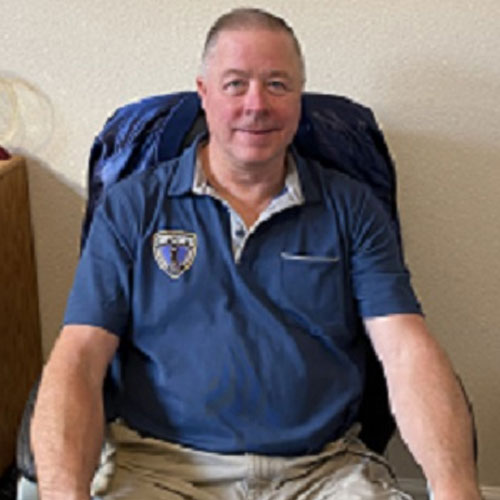 Instructor: Deputy Thomas Cave
Tom started his law enforcement career in June 1991 by joining the Navy reserve and becoming a U.S. Navy police officer. In August that same year, he became a reserve police officer for the Jacksonville (FL) Sheriff's Office. After moving to Colorado in 1994 and continuing his career in the Navy, Tom was awarded a Navy and Marine Corps achievement medal for teaching EVOC in August 2000. Tom worked for the Denver Sheriff Department from October 1994 until retirement in September 2019 with two breaks in service.
Tom became a field training officer for the Denver Sheriff Department until 2016, he then started teaching Terrorism/ Weapons of Mass Destruction on behalf of the Department of Homeland Security to recruits at the Denver Sheriff academy. During that time Tom reached Bronze instructor level 3 years in a row from 2016 through 2018. Tom has many teaching certifications and numerous awards for teaching over the years. Tom has been married 35 years and have two sons and a grandchild due in July (first one).
Tom is such an All-American instructor, he is now retired and passing his wealth of knowledge on to our young drivers at TopCops… Tom thank you for your service to our country - its what makes you one of our TopCops!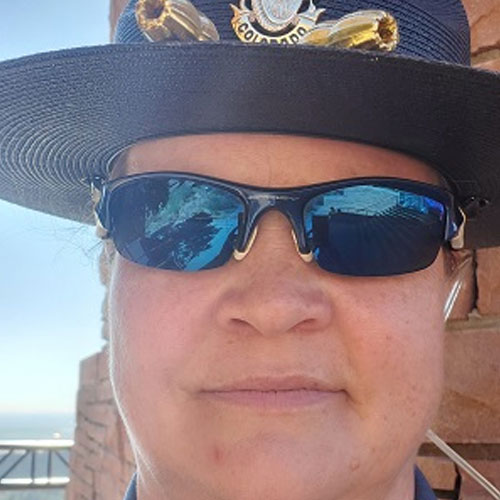 Instructor: Trooper Sarah Hargreaves
Trooper Sarah Hargreaves began her law enforcement career after graduating college in 1997. She has worked for the FBI, the Boulder County Sheriff's Office, and finally settled in at the Colorado State Patrol where she has been a Trooper for the past 15 years. During Sarah's time in law enforcement she has taken advantage of many opportunities to serve our local communities and advocate to save lives.
Sarah has a passion for traffic safety and believes that impacting our young people while they are learning to drive is one of the best ways to help them feel safe on the roadways. Sarah is excited to be involved in this influential time in the lives of teens and looks forward to making each student a better driver. Sarah's dedication to the development of our youth sets her apart from so many other police officers and that is why we are proud to have her as one of our TopCops!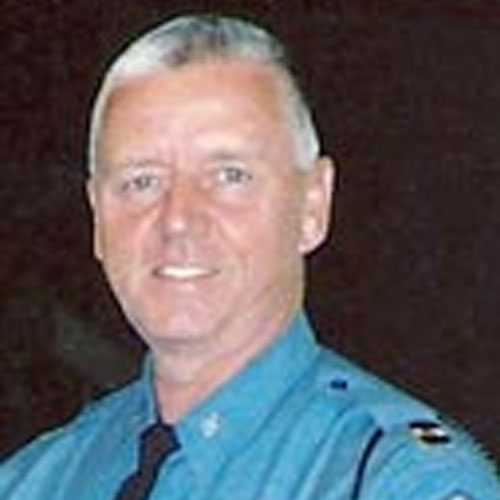 Instructor: Captain Bruce Sheetz
Captain Bruce Sheetz comes to us from the Colorado State Patrol where he spent his career keeping the highways safe in Boulder County and many other areas around the state of Colorado. Captain Sheetz retired from the Colorado State Patrol after 30 years of service. His various duty assignments afforded him the opportunity to work in numerous areas of the state, including 4 years in Boulder County as a Trooper. During his career, he was awarded the Medal of Valor, the Colonel's Award for Excellence, and MADD's Colonel Mark V. Trostel Law Enforcement Office of the Year Award. He continues to work in traffic safety as a certified Motorcycle Safety Foundation RiderCoach and Quality Assurance Specialist, a Regional Law Enforcement Liaison with CDOT's Office of Transportation Safety, and an Alive At 25 Instructor entering his 13th year. It is this level of experience and commitment to the safety of teen drivers that makes Bruce one of our TopCops!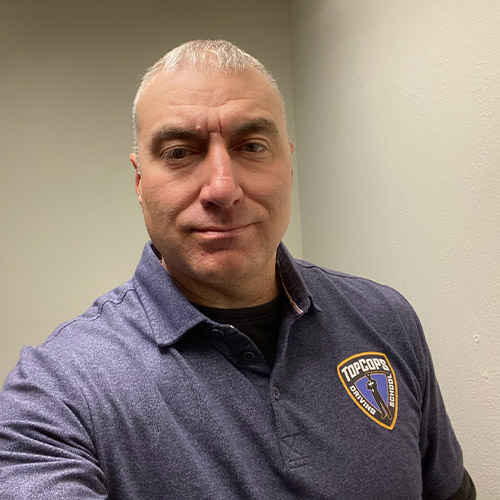 Instructor: Officer Phil Cagle
Officer Phil Cagle has been an Engineer for the Denver Fire Department for the last two years and a firefighter since 2013. His first responder duties include hydraulic calculations for pumping water at fires and driving Engine 6 in downtown Denver. Phil takes pride in safely driving and operating a 40,000-pound vehicle on some of the busiest streets in LoDo, where pedestrians and cars are constantly present. Phil enjoys teaching new drivers how to better understand the process for navigating their own vehicles and, most importantly, how to do it safely. Before being a Denver Firefighter, Phil was a police officer working for the State of Colorado as a parole officer. He has worn many hats through the years. Officer Cagle is excited for the opportunity to teach and impart safe driving skills that will instill confidence in your teen's driving abilities.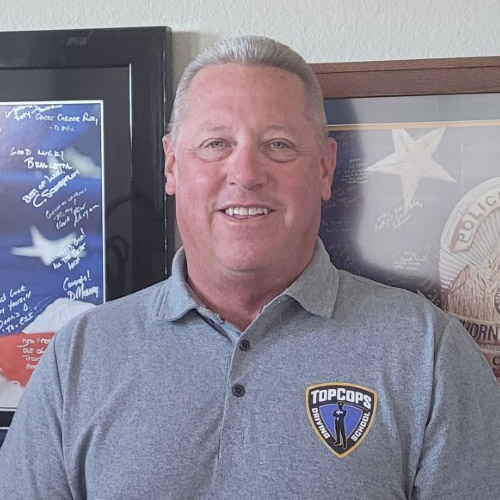 Instructor: Officer Rory Coonts
Officer Rory Coonts has been in law enforcement and has recently retired after forty years. Rory began his career with the Colorado State Patrol in Boulder County. Rory worked the majority of his career with the City of Thornton Police Department. He held several positions within the Thornton Police Department but once he became a member of the Youth Services Unit, he discovered his passion working with youth in the schools and community. During the last seven years, Rory finished his career with the City of Commerce City Police Department developing a nationally recognized Youth Services Unit. Rory enjoys building relationships with the kids and families of the communities he served. Rory is looking forward to the next chapter in educating teenagers and promoting safety as they enter into their next phase of independence behind the wheel.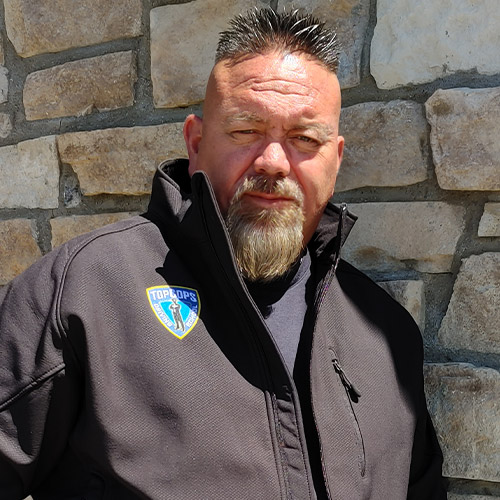 Instructor: Officer Randy San Nicolas
Officer Randy San Nicolas has a Bachelor of Science Degree in Criminal Justice and Criminology with a minor in Sociology from Metropolitan State University and had been in law enforcement for approximately 25 years.
He worked as a Deputy Sheriff for Adams County Sheriff's Office as well as Patrol Officer for Longmont Police Department. During this time, he worked various positions; a Patrol Deputy, Courts, and then later transport, before retiring in 2018 as a Deputy Sheriff Technician. He had worked these Divisions as a Field Training Officer and was an operator on Adams County Sheriff's Office SWAT. Randy was also given the Medal of Valor, two Life Saving Awards, and received Peace Officer of the Year Award in 2000 with the Adams County Sheriff's Office.
Randy enjoys fishing, hunting, being in the great outdoors, and archery. He's also a level 1 instructor with USA Archery. Randy has been married for 23 years and has a 23 year old daughter.
Randy holds a Commercial Driver License and truly enjoys teaching the younger generation to be safe, courteous, and cautious on Colorado's busy roads.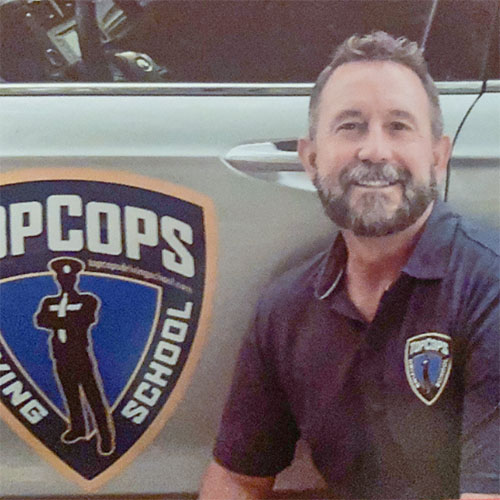 Instructor: Officer Russ Persons
Russ has 25 years of experience in law enforcement in Kentucky. He served as a patrol officer for the Frankfort City Police Department for 12 years and the Franklin County Sheriffs office for 13 years. During those years with the city police, he served as the public information officer, SWAT operator, and directed patrol division officer. As a deputy, he served as a public information officer, citizens police coordinator and instructor, SWAT commander, and retired as a captain over patrol, courthouse, and school resource operations.
Russ has spent his entire career working with youth programs to build better relationships between youth and police officers. He taught drug abuse education in elementary and middle schools for six years and served as the senior advisor for the junior police explorers for seven years. Russ is passionate about humanizing police officers with our youth, so they will be comfortable around and trust all police officers, especially in times of need.
Russ's role as a driving instructor is another way to pass his knowledge and experience to each driver, ensuring safety and making it a great learning experience.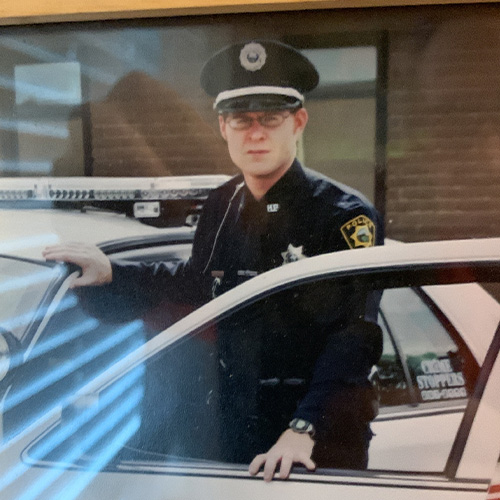 Instructor: Officer Kasey Kielhorn
Officer Kasey Kielhorn's driving experience began at an early age, racing go-carts and, eventually, SCCA Spec Racer Ford Pro. He became a police officer in 2005 and served through 2014. As a police officer, Kasey put a lot of focus on traffic. He became an advanced roadside tester and a commercial motor vehicle inspector. Officer Kielhorn also served some time as a school resource officer. After his law-enforcement career, he was a cable and security installation technician. In 2019 he and his family moved to the area, and Kasey started a business, Affordable Roadside Assistance. Kasey is a mobile mechanic providing roadside assistance, such as unlocking a vehicle, tire changes, and jumpstarts. Kasey also has a model car replica making business called Kasey's Custom Cars. His philosophy on the road is to give time and space so that we all make it to where we are going safely!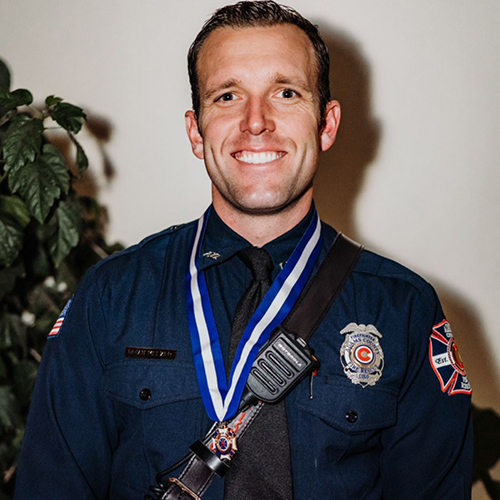 Instructor: Officer Brian Melzer
Brian is currently a Firefighter with Adams County Fire Rescue. Brian has been a first responder for five years and loves what he does. "A career as a first responder is extremely rewarding, and there is no better feeling than making someone's difficult situation just a little better." Prior to his career as a first responder, Brian attended the University of San Diego and received a bachelor's degree in Communication Studies.
Brian has responded to hundreds of accident scenes and gravitated towards becoming a driving instructor for a few reasons. "First and foremost, becoming a safe, attentive, and well-prepared driver is crucial for an enjoyable experience whenever you get behind the wheel. Driving should be fun, but it should also always be done in a safe and smart manner, and I believe this mindset is best taught during the permit process. Secondly, I simply enjoy teaching! I love driving, and I take it very seriously anytime I step into a car. My goal is to pass this mindset onto every student I teach so they can feel confident and safe anytime they drive."
When Brian is not at one of his two careers, he enjoys spending time with his wife and dog, and doing anything and everything outdoors. Brian's commitment to traffic safety for TopCops sets us apart from all other driving schools in Colorado, and his attention to detail will have your young student driving like a TopCop!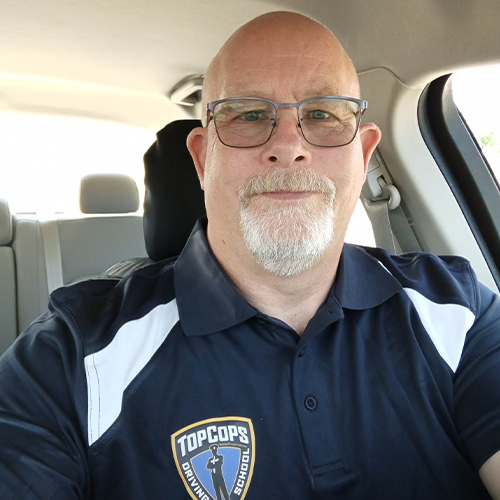 Instructor: Sergeant Dave Orr
Sgt. Dave Orr's law enforcement career has spanned 36 years total, with the last 34.5 years spent right here in Colorado with the Longmont Police Department. During his tenure with the Longmont Police Department, Dave held assignments in Patrol, Detectives, SWAT, Professional Standards (Internal Affairs), and Support Services. He also served as a Field Training Officer for many years prior to being promoted. Dave received numerous awards and commendations over the course of his career, including multiple Meritorious Achievement Citations and the department's Life Saving and Distinguished Service medals.
In addition to teaching his own two teenaged children and a foreign exchange student from Germany to drive, Dave occasionally served as a driving instructor in the department's Student Police Academy. Dave retired in 2015 at the rank of sergeant. Shortly after retiring, Dave and his wife moved to and lived in Costa Rica for two years before returning to the U.S. Dave looks at his service with TopCops Driving School as an opportunity to give back to the community by training up the next generation of what are hopefully the safest drivers in the state. Dave's long career and extensive experience is what makes Dave one of our TopCops!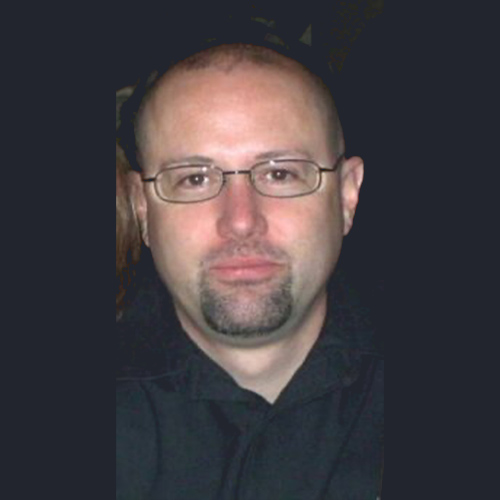 Instructor: Sergeant George Rood
Sgt. George Rood began his Police career as a Deputy Sheriff with the Boulder County Sheriff's Office in 2002 and quickly became a Field Training Officer. George was certified as a coach with the Northern Colorado Crisis Intervention Team (CIT) in 2013. George was assigned to work on inmate mental health issues and taught the CIT curriculum to Deputies in both Boulder County and surrounding agencies.
In 2019, George accepted a Sergeant position with Regis University Campus Safety in Denver, Colorado. He became well-versed in the Jeanne Clery Act for Higher Education and also worked to train students and faculty in ALICE (Alert, Lockdown, Inform, Counter, Evacuate) for emergency situations that might occur on the campus. George is trained in FEMA Incident Command and FEMA Diversity Awareness. In 2020, George began working with a private security company as a supervisor at the Thornton Courthouse and Thornton City Hall building.
George takes pride in educating teens and adults on how to drive safely. He teaches with patience, thoroughness, and an easygoing attitude. George's background, passion for teaching, and easygoing attitude help students feel at ease and help TopCops stand out as the most elite driving school in Colorado!